---
Hometown Health Care of NEPA will be hosting another Back-to-School Immunization Clinic this Saturday, September 18th
Hometown Health Care of NEPA will be hosting another Back-to-School immunization clinic this Saturday, September 18th at Scranton High School. Not in the Scranton School District? No problem! All members of the community are welcome. We will be administering all vaccines including Tdap, meningococcal, Pfizer COVID-19, seasonal influenza, & more!
Click here to pre-register: https://hipaa.jotform.com/212055855211145. Walk-ins are also welcome. Unsure if your child is due for any immunizations? Check the image below or feel free to message us today!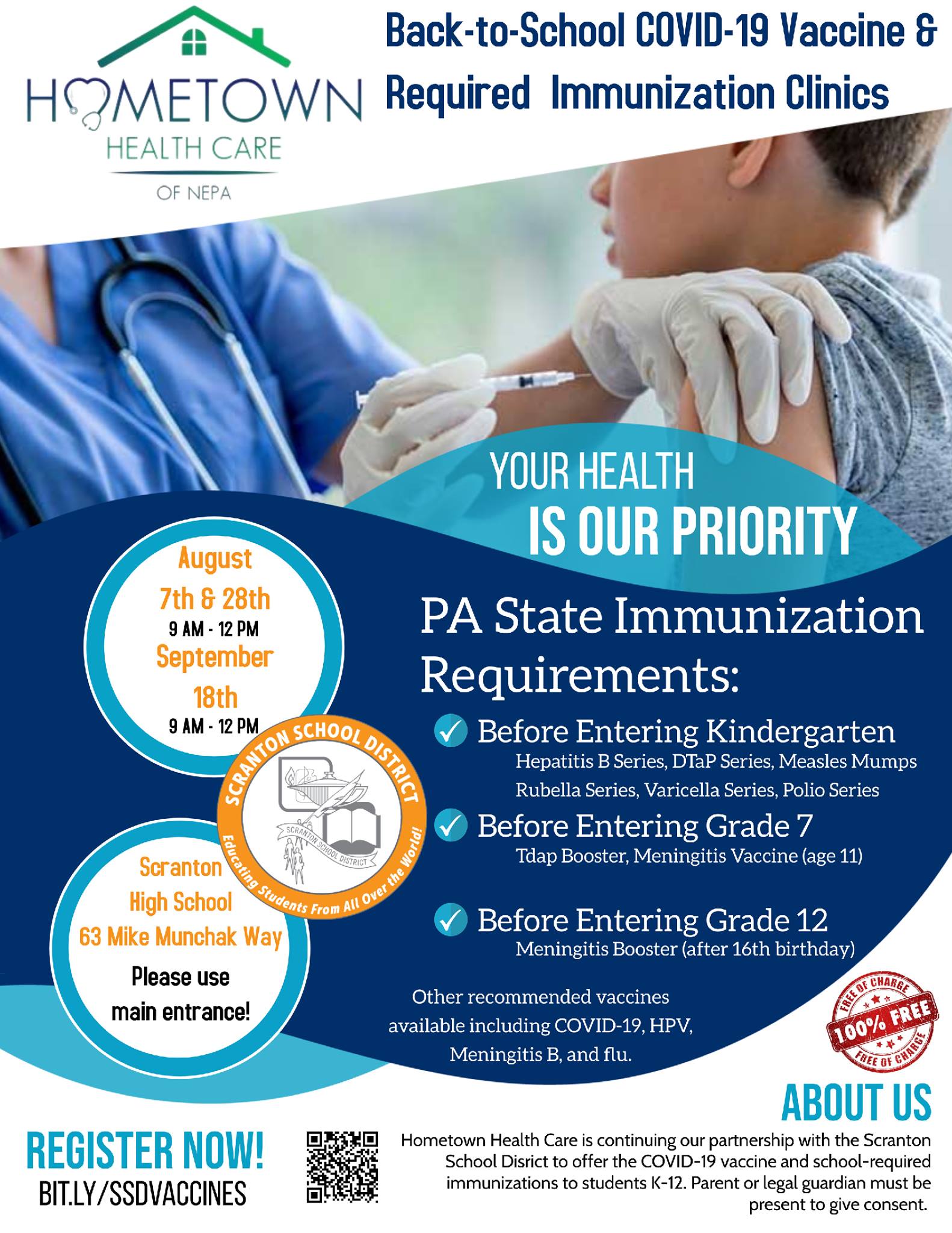 ---
Lackawanna County Urges Residents to Vaccinate Amid Increased COVID Transmission and Infection; Under 25 Lag Other Age Groups – United Way Hosting Free Clinic at Co-Op Farmer's Market on Friday, Sept. 3 from 12-4 p.m.
With a recent shift to high COVID-19 transmission, and infection risk toggling between medium and high, Lackawanna County is urging all eligible residents aged 12 and over to receive a COVID-19 vaccination as soon as possible to control further virus spread.
Of those currently eligible (aged ≥12 years), fully vaccinated Lackawanna County residents under age 25 considerably lag those across all other age groups. County epidemiologist Dr. Sabine Charles stated, "While it includes the last group of residents to become eligible, vaccination rates remain too low among our younger population. With most students, teachers and education support workers returning to schools this fall, we know they will be indoors for extended periods, surrounded by others with varying exposure levels, whose immediate family members may or may not be vaccinated. The very best defense is for all eligible residents to get vaccinated now, especially considering how highly contagious the Delta variant is compared with earlier strains."
Data are clear that the available vaccines continue to play a vital role in preventing serious COVID 19 illness and hospitalizations. According to a new study from CDC's COVID-NET, unvaccinated adults aged ≥18 years are 17 times more likely to be hospitalized compared with unvaccinated adults, with rates far higher when the Delta variant of the Coronavirus emerged as the predominant strain.
Recommendations:
• Get vaccinated as soon as possible.
• Vaccinated individuals should wear masks in public indoor spaces to reduce the spread of the Delta variant. Unvaccinated people should wear mask in all public spaces.
• Continue to wash hands often, and for at least 20 seconds.
• Keep your distance from people who do not live in your household.
• Do not let your guard down, remember that some people, even without symptoms can spread the virus.
The United Way of Lackawanna and Wayne Counties is hosting a free vaccine clinic on Friday, Sept. 3 from 12-4 p.m. at the Co-Op Farmer's Market, 900 Barring Ave., in Scranton. Delta Medix is administering first, second and third doses (for eligible immunocompromised individuals per CDC guidelines) of the Pfizer, Moderna and Johnson & Johnson vaccines. Gift cards are available for the first 100 people vaccinated. No pre-registration is required. Visit https://covid.lackawannacounty.org for a schedule of upcoming clinics or use
www.vaccinefinder.org.
Kick COVID-19 Community Corps is a collaborative between Lackawanna County, the City of Scranton, local healthcare providers, social service agencies, faith groups, cultural organizations, economic and educational institutions, and volunteers. Our mission is to stop the spread of COVID-19 through a grassroots campaign that educates, informs, and motivates the region's most vulnerable populations to be vaccinated and encourages meaningful acts of service. Kick COVID is a member of HHS COVID-19 Community Corps.
---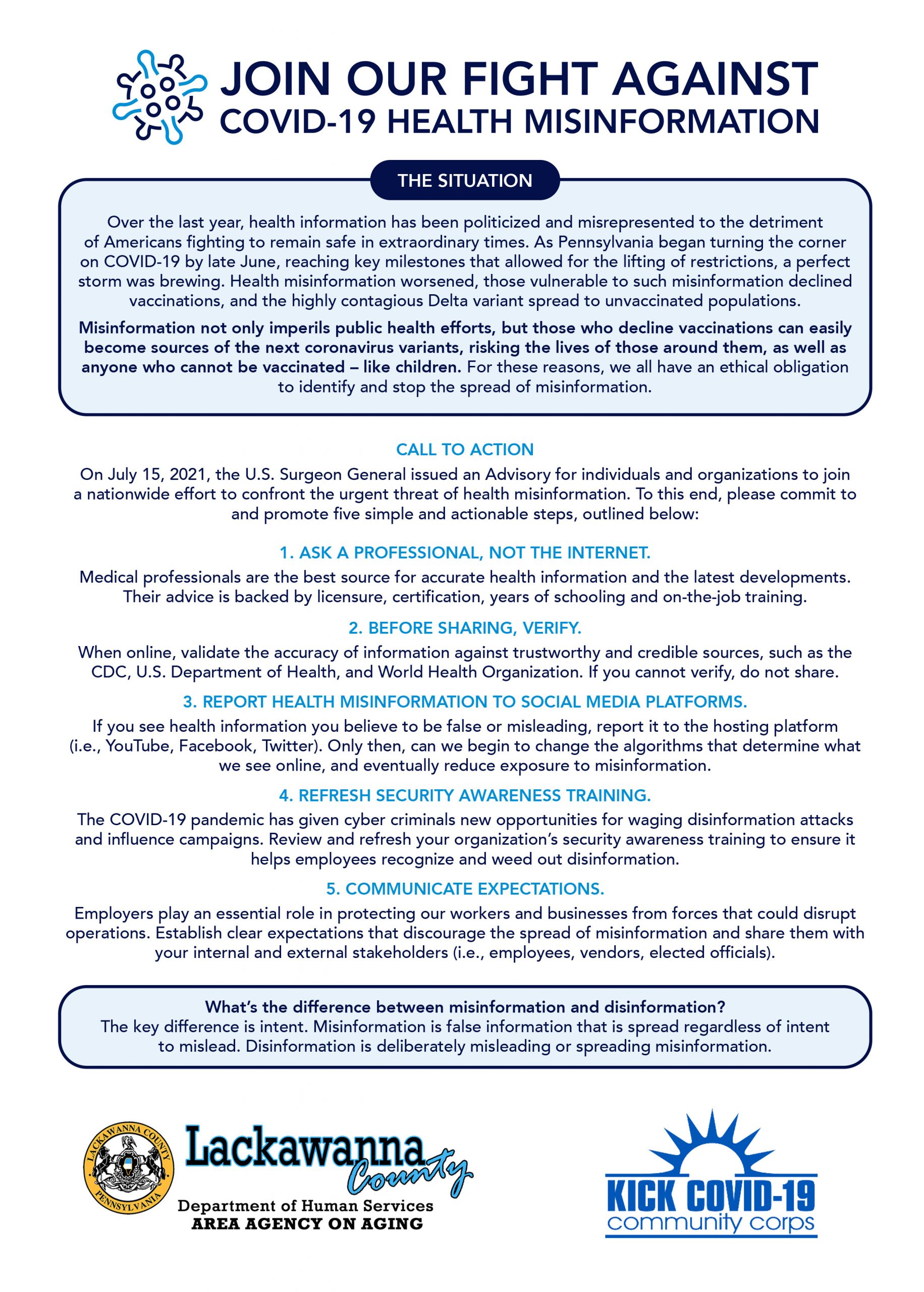 ---
Kick COVID-19 Community Corps Urges Area Organizations & Leaders to Join Fight Against Health Misinformation
Scranton, Pa., July 29, 2021 – On July 15, the U.S. Surgeon General issued an Advisory for individuals and organizations to join a nationwide effort to confront the urgent threat of health misinformation. To support this effort, Kick COVID-19 Community Corps is asking area schools, businesses, organizations, and community leaders to join its partner organizations in committing to and promoting five simple and actionable steps.
---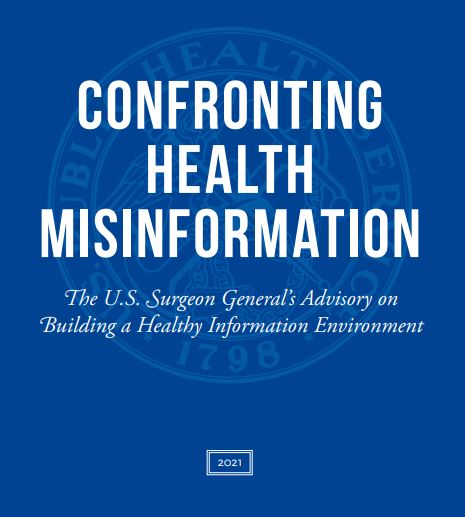 ---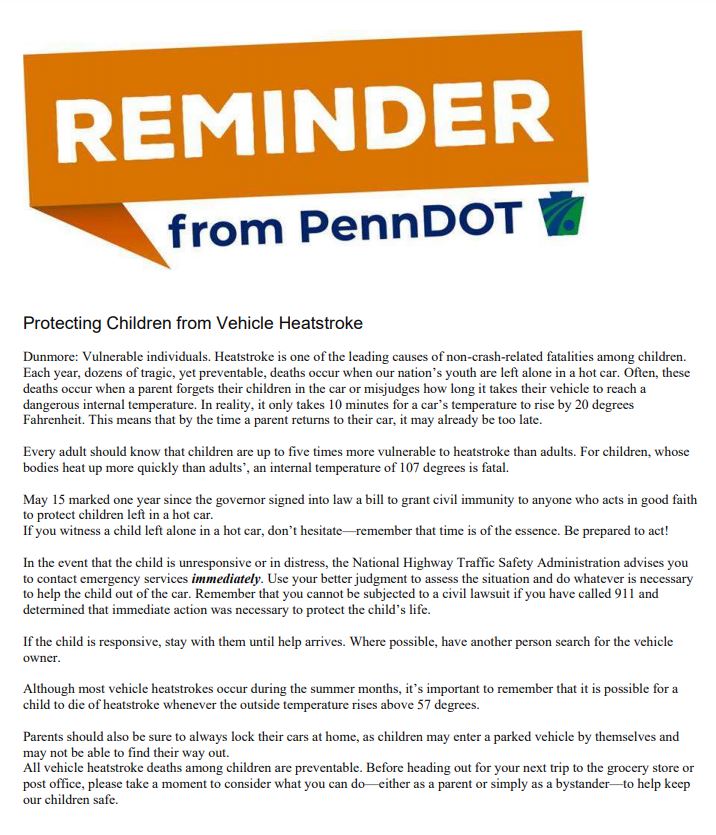 ---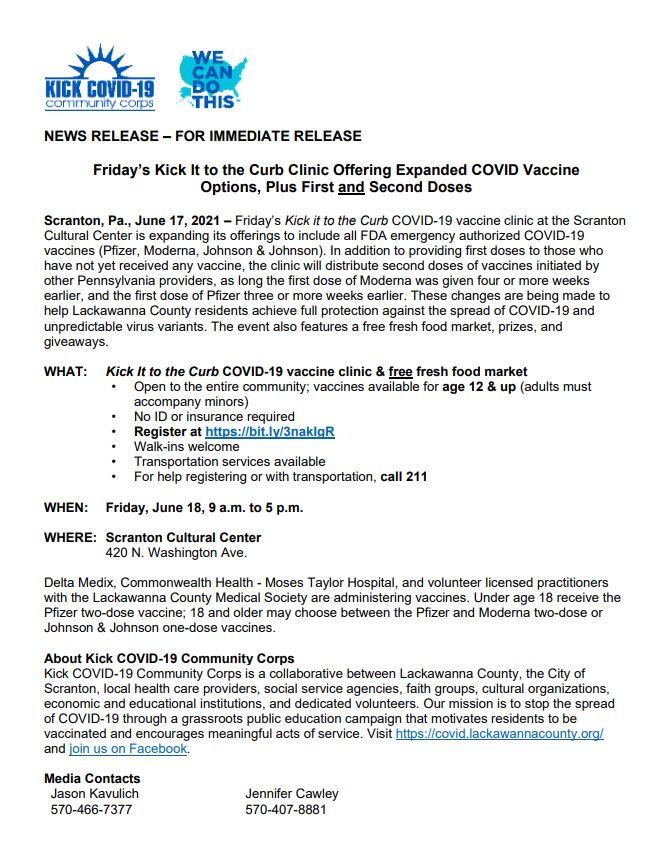 ---
---
Kick COVID-19 Community Corps to Host Kick It to the Curb, a Celebration of Community Action
June 18 Vaccine Clinic & Free Fresh Food Market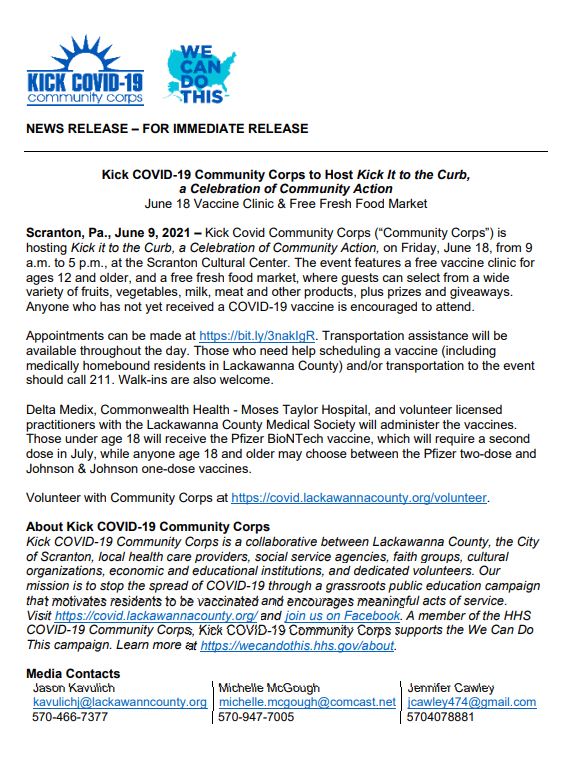 ---
Commissioners Message about getting the COVID – 19 Vaccine
---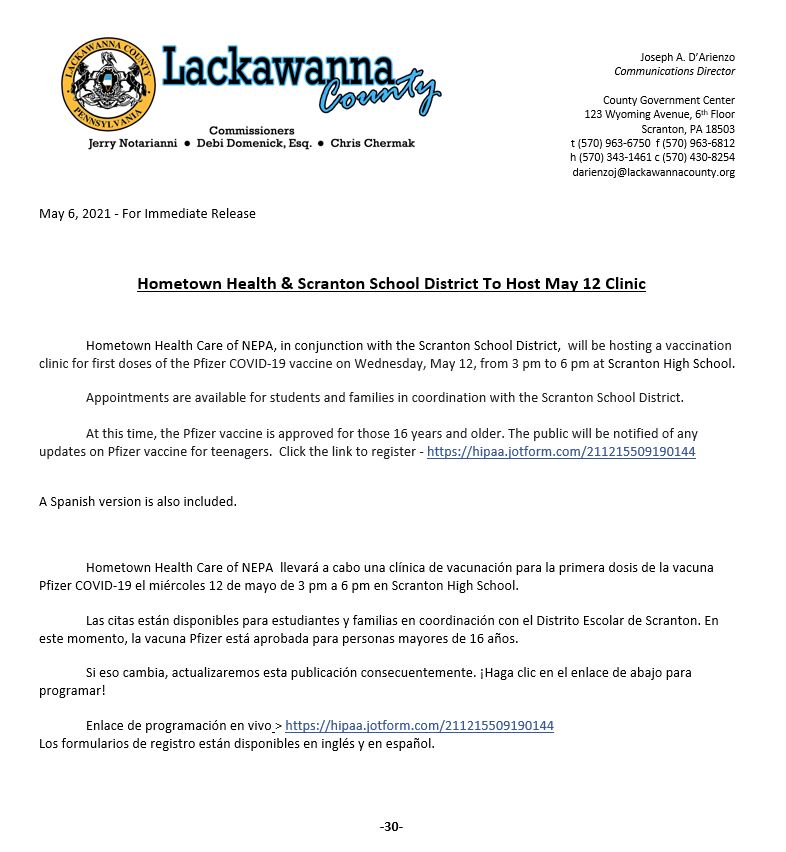 ---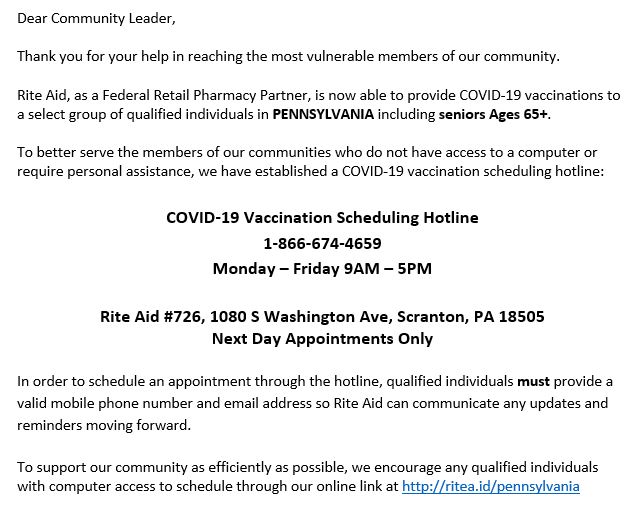 ---
Thousands Head to Montage Mountain for Vaccine Clinic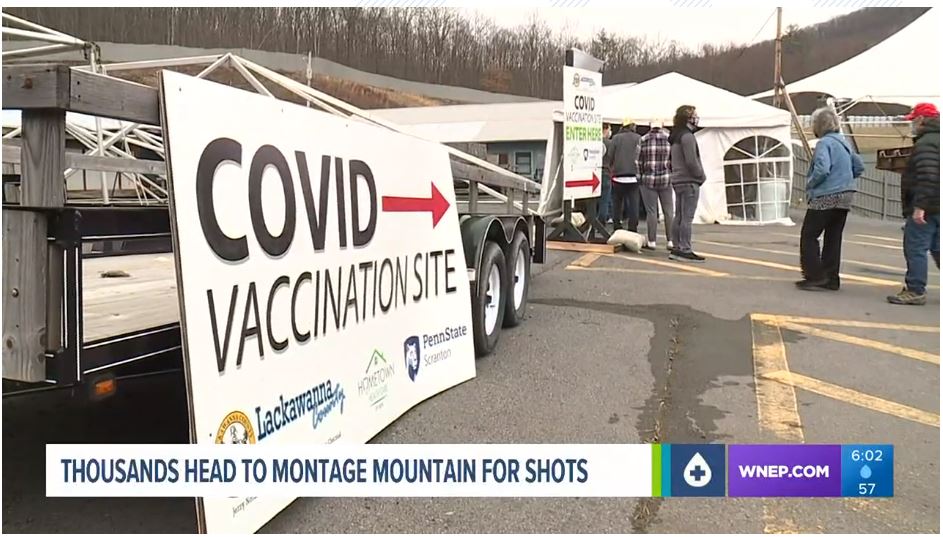 ---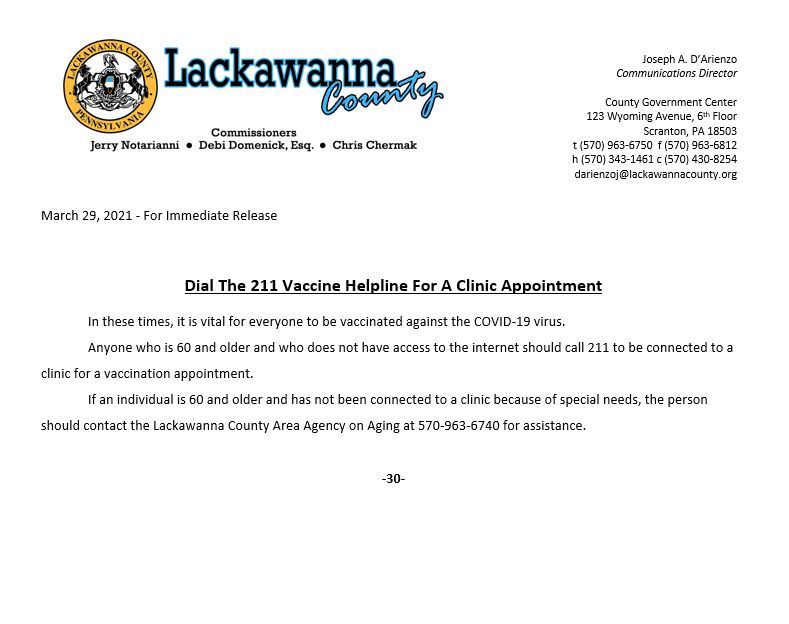 ---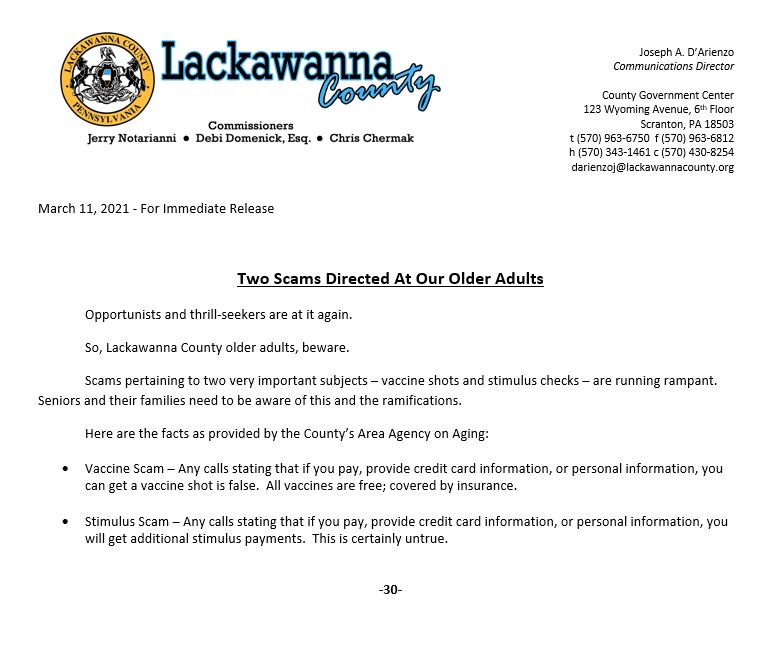 ---
Mortgage & Utility Assistance Program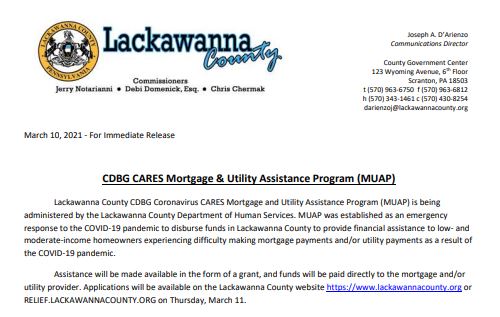 ---
Emergency Rental Assistance Program
---
Lackawanna County Gains High Ranking For Vaccine Distribution
---
---
---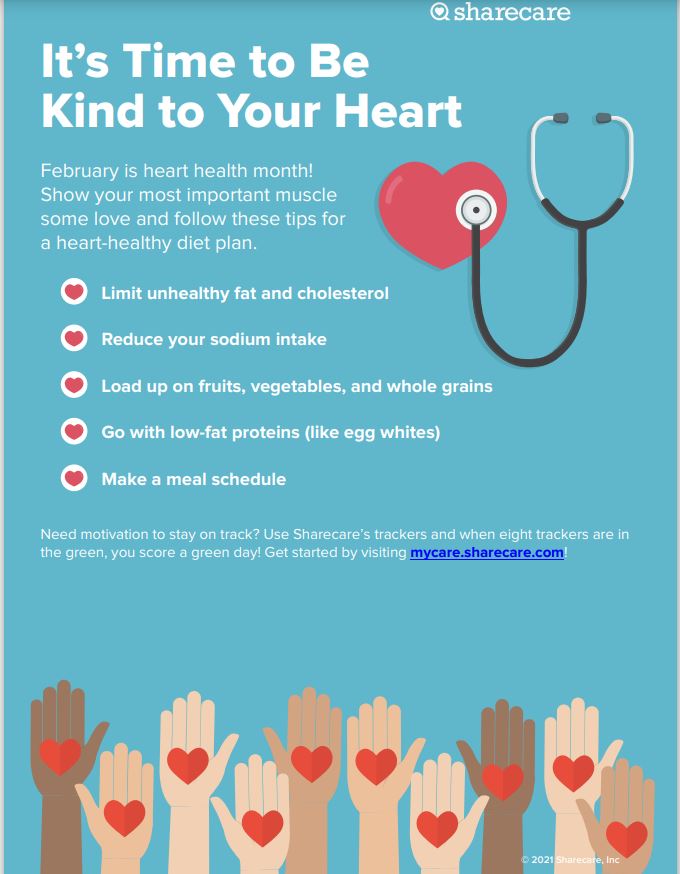 ---
PA Department of Aging Assembles Public-Private Task Force to Address Financial Exploitation of Older Adults
---
Pennsylvania American Water Offers Second Virtual Information Session on Customer Assistance Programs
Live webinar will help customers understand their eligibility and learn how to apply for or enroll in company's variety of bill payment assistance programs.
Pennsylvania American Water is hosting a second virtual information session about its customer assistance programs on Thursday, Jan. 14 from 4:00-4:30 p.m. Representatives from Pennsylvania American Water and the company's H2O Help to Others program administrator, Dollar Energy Fund, will provide information about the company's H2O Help to Others Program, which offers financial assistance for income-eligible customers, including grants of up to $500 per year, discounts on monthly water and wastewater charges, and water-saving devices and education. The company will also explain how all customers – regardless of income – can set up payment arrangements, sign up for budget billing, and reduce water usage to lower their monthly bills.
---
Checklists to Guide Parents, Guardians, and Caregivers
---
Assistance available for renters and homeowners affected by COVID-19 economic slowdown
---
The Lackawanna County Area Agency on Aging will Distribute Vouchers for the Senior Farmers Market Nutrition Program (SFMNP)
---
Senior Farmers Market Nutrition Program fillable PDF Application
---
Senior Farmers Market Nutrition Program Mail-in Application
---
Home-Proofing for COVID-19 and the Flu
---
Wolf Administration Receives Approval to Launch Food Access Program for Students During COVID-19 Crisis
---
Register for COVID-19 Testing at the Mohegan Sun Pocono Arena at Casey Plaza
---

May is Mental Health Awareness Month!

Outbreaks can be stressful

The outbreak of coronavirus disease 2019 (COVID-19) may be stressful for people. Fear and anxiety about a disease can be overwhelming and cause strong emotions in adults and children. Coping with stress will make you, the people you care about, and your community stronger.

---

PA Council on Aging Releases Findings from Survey of Older Adults During Pandemic

---

Tips From the Penn State Extension About the Farmer's Market during COVID – 19

Food Safety Tips for Shopping at a Farmer's Market

Safe Practices at Farmer's Markets amid COVID-19

COVID-19 Guidelines for Farmers Markets Operations

Minimizing Risks for Coronavirus Transmission at Farmers Markets, On-Farm Markets, You-Pick Operations, and Produce Auctions

Farmer's Market Food Safety Webinar

---

---

---

Take Away Meal Services – Food Pantries

---

 

Geisinger Coronavirus Hotline: 570-284-3657

---

 

Day Care and Child Care Centers

Caregivers4Kids – 700 S. State St., Clarks Summit – openings for children ages 6 weeks to 6 years – Margaret Adolfson  –  (570) 319-6111

UNC Progressive Child Care Center – open for parents who work as essential positions – (570) 309-9232 or email

[email protected]

Bella Bambini's Daycare LLC – 27 S Washington Ave, Jermyn Open 6:30am-6pm – If your daycare facility is shut down for the time being, and you fall under the essential employee list, that needs temporary childcare through this state shut down, please contact 570-876-1101

AVEANNA Healthcare – ODP – Offers 1:1 services to individuals with intellectual disabilities.  In order to be eligible individuals would need to have a supports coordinator (SAM inc. or Tri Valley Cares in Lackawanna).  Have an ODP (office of developmental disabilities) waiver:  Consolidated, Community Living, or P/FDS.  The waiver funds our services and the individual wouldn't have any financiall responsibility.  The services that we offer are Companion, In Home and community supports and Family Aide.  If the individual doesn't have a waiver they can call Sara Studenski at the Advocacy Alliance 570-558-5486 ext. 8 to apply. We also have a Home-Health department that takes medical insurance for nursing services.  They also provider of OLTL waiver (18-59 with a physical disability)

---

Letter from NEIU 19 Early Intervention

 

---

Message from Women's Resource Center

During this unprecedented time of public health crisis….during an already stressful time, victims may not have the opportunity to reach out to us for help.

Our decrease in hotline calls is not due to a decrease in abuse.  The hotlines have been eerily quiet the past two weeks……and that worries me. – Peg Ruddy, Executive Director, WRC

 

---

 

Message from Community Intervention Center

Community Intervention Center (CIC), 445 N. 6TH Ave. Scranton PA 18503 is open but are limiting services to people who are strictly homeless and are currently in our local shelters or can verify being outside.  They cannot provide services to people who are in rooms, apartments, or staying with friends and are only providing services to people who can provide a Lackawanna Co. ID.  They remain open 8am-6pm and are providing meals and access to showers, laundry and computers and people can watch TV in the day room.

To get showers and do laundry a sign-up sheet is used to block out a time.

Temperatures will be taken when people enter and if they have a temperature, they cannot go in.

Visit their website for more information.

 

---

 

 

---

 

White House COVID-19 National Briefing

April 1, 2020

 

---

 

The Department of Human Services Support Hotline

The Department of Human Services (DHS) today announced the launch of a Statewide Support & Referral Helpline staffed by skilled and compassionate staff who will be available 24/7 to assist Pennsylvanians struggling with anxiety and other challenging emotions due to the COVID-19 emergency and refer them to community-based resources that can further help to meet individual needs.

The toll-free, round-the-clock support line is officially operational.

The number to call is 1-855-284-2494

For TTY, dial 724-631-5600

 

---

Quick and Easy Survey for all Pennsylvanians…

The Pennsylvania Department of Human Services has created the "Access to Food Survey." This survey will give better understanding to the Department and sister-agencies to address the needs of residents across the commonwealth.

Please Share/Tag this post to all of your close Pennsylvanians

---

Guide to Home-proofing for Flu, Coronavirus and Other Illnesses

---

Lackawanna County Community Development Block Grant Program (CDBG) – Program Overview & Coronavirus Aid, Relief, and Economic Security Act (CARES Act)

CDBG funds enable communities to effectively address local community development needs, such as infrastructure, housing, and community facilities. It also provides federal funds to develop viable communities through the provision of housing improvements and building suitable living environments, expand economic opportunities geared to low- and moderate-income individuals, and improve critical community health and welfare infrastructure.

---

Cartwright Holds Listening Session with Area Agencies on Aging in PA-08, Highlights Resources for Seniors During COVID-19

Moosic, PA – U.S. Representative Matt Cartwright (PA-08) today held a listening session with leaders of the Area Agencies on Aging. Agencies from Lackawanna, Luzerne, Monroe and Wayne Counties shared their questions, suggestions and concerns related to protecting older northeastern Pennsylvanians during the COVID-19 outbreak.
"As our communities deal with the coronavirus, the health and safety of our older adults is top of mind," said Rep. Cartwright. "Our aging agencies in northeastern Pennsylvania are doing a great job adapting to the challenges posed by this virus and meeting our seniors' demand for meal delivery, legal services, and even exercise, while observing social distancing guidelines. Our job in Congress going forward is to ensure the agencies have the resources to keep this up for as long as they need to."

---
5,794 total views, 1 views today