The Mission of the Lackawanna County Re-entry Program is to successfully integrate recently incarcerated citizens back to the community. A strong and diversified network of community and professional partnerships establishes a framework to bolster public safety, break the cycle of recidivism, and enhance lives, families, and society. The vision of the Reentry Program is that every citizen is released from incarceration actualizes a responsible, productive, and fulfilling life. Committed, competent, and compassionate professionals, along with vested community stakeholders support returning citizens within the full spectrum of the human condition. What remains are respected and restored lives that exemplify character, benefit communities, and strengthen hope for the future. The primary goal of the Reentry Task Force is to reduce recidivism and improve outcomes in Lackawanna County. For purposes of this ongoing initiative, recidivism is defined as the return of any individual who received a Lackawanna County sentence of imprisonment, is released, and is subsequently incarcerated within three years of release.
---
Employment: The Employment Sub Committee works to provide comprehensive employment services and options that will increase the probability that returning citizens will secure and retain long term employment. A job readiness program is maintained to help participants overcome barriers while building work-related skills that ultimately lead to apprenticeships and/or unsubsidized employment. The committee works to strengthen their relationship with PA CareerLink, and hold job fairs, mock job interviews, etc. The committee continues to educate area employers on incentives related to the hiring of offenders, i.e. Federal Bonding Program and works to connect individuals with special needs (such as individuals with disabilities, veterans) to organizations providing specialized services. The Employment Sub Committee actively pursues venues of funding and expansion of programs available.
---
Housing: The Housing Sub Committee works to provide emergency, short-term, and long-term housing options for returning citizens. They connect program participants with emergency housing options, as needed. Maintain a list of landlords willing to provide housing options to offenders.
They continue to pursue new housing options with supportive services appropriate for single or family situations post-release. The committee actively pursues avenues for funding to assist returning citizens' housing needs.
---
Mental Health / Substance Abuse: The mission of the Mental Health Sub Committee is to first and foremost address mental health and substance abuse needs of returning citizens in a timely manner. This goal is achieved by encouraging agencies to develop and implement programs and protocols addressing the specific needs of offenders who need mental health services and/or substance abuse treatment. The committee works to coordinate required supports, for example: referrals for service, interim medications, and medical records prior to the returning citizens' release date. Committee members work closely with mental health staff assigned to the prison to ensure availability of medication upon release and/or follow-up appointment scheduled prior to release. Committee members actively pursue avenues for funding and expansion of programs related to mental health and substance abuse for our returning citizens.
Community Outreach/Mentoring: The Community Outreach/Mentoring Sub Committee's task is to connect returning citizens with community
resources and provide a long-term multi-layered mentoring program that will support returning citizens.
---
Festival: As Covid restrictions continue to lift plans are in the works for this years Second Chance Festival at Nay Aug Park in Scranton. We are looking to have the festival this summer in August. Check back for date and time. The festival is sponsored by the Housing Subcommittee of the Reentry Task Force. It will raise money to assist county inmates obtain housing.
---
Peer2Peer Mentoring – EACH 1 TEACH 1 "We Are No Longer Inmates"
Peer2Peer is a mentor-based support group of ex-offenders and community advisors who offer support and guidance to those individuals who have recently been incarcerated and are now faced with re-entering society. The Peer2Peer mentor facilitators are returning citizens who have successfully overcome the obstacles and behaviors of their past that resulted in their incarceration. Facilitators have completed the requirements to become a mentor to those returning citizens in need of assistance and have shown by their deeds and actions a dedication to help other returning citizens succeed. As a group and one-on-one Peer2Peer mentor facilitators encourage members to find new ways and alternatives to live life on life's terms without going back to the behaviors and patterns that resulted in incarceration. Peer2Peer's aim is to have a positive impact by encouraging independence and self-sufficiency in life. Our mentor facilitators work with our community advisors to help returning citizens achieve their goals as quickly and efficiently as possible.
Some of the resource assistance available through Peer2Peer to returning citizens includes housing, transportation, medical, employment, mental health counseling, therapy, domestic relations, food pantry services, adult education classes & DMV ID assistance.
Our meetings are held in person on the 2nd and 4th Thursday of each month. We meet at St. Luke's Episcopal Church, 232 Wyoming Avenue, Downtown Scranton from 6:00 – 7:30pm.
Come as you are and let us help you traverse the pitfalls and obstacles of Reentry.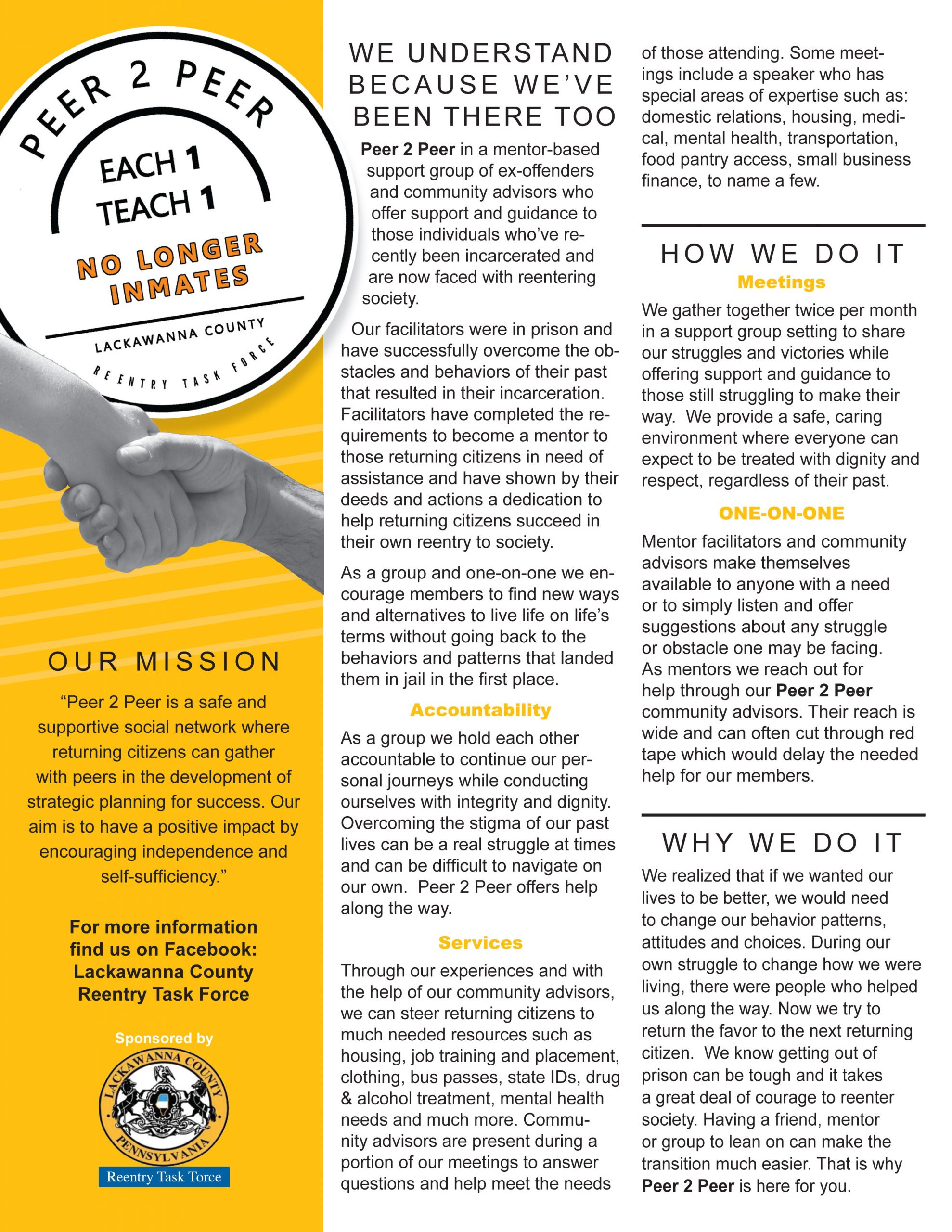 ---
Sub Committees
---
Testimonials
---
Photographs
---
Events
---
Resource Links
---
Contact Information
---
The Lackawanna County Reentry Task Force meets every other month on the third Tuesday.
2022 Meeting Schedule
June 21, 2022 9am
August 16, 2022 9am
October 18, 2022 9am
December 20, 2022 9am
Board Reorganization Meeting
1,659 total views, 1 views today