The Penn State Cooperative is an extension of Penn State University and is designed to provide educational services at a local level.
Our Mission
To extend nonformal outreach educational opportunities to individuals, families, businesses, and communities throughout Pennsylvania. To enable the Commonwealth to maintain a competitive and environmentally sound food and fiber system and prepare youth, adults and families to enhance the quality of their lives and participate more fully in community decisions.
---
Pennsylvania Department of Health and Penn State Extension to Provide Free Water Testing for a limited number of Private Wells, Springs, and Cisterns in Lackawanna County
Have you ever had the drinking water from your well, spring, or cistern tested for lead and other health-related pollutants?  If not, here's your chance!
Penn State Extension has received funding through the Pennsylvania Department of Health cooperative agreement with the Centers for Disease Control, Environmental Health Capacity building initiative (Grant #1NUE1EH001414-01-00) and with support from the Penn State Master Well Owner Network to provide no-cost drinking water testing to a limited number of homeowners in Lackawanna County using private water wells, springs, or cisterns.
Each water supply will receive testing through a PA DEP state accredited water testing laboratory for  coliform bacteria, E.coli bacteria, nitrate, manganese, arsenic, lead, copper, barium, and sodium.  Registration will be limited to approximately 35 households.  Each household must own or rent a primary residence (no camps) in Lackawanna County that uses a private well, spring or cistern for a drinking water supply.  Registrants are required to attend a one-hour initial webinar on April 26, 2022 at 4:00 pm ET to learn about the testing program.  After attending the webinar, homeowners will be mailed a water testing kit.  Optional follow-up webinars will be offered to provide interpretation of results and to answer questions.  Registration and further information for this testing programs is available online at https://extension.psu.edu/private-water-supply-education-and-water-testing-in-lackawanna-county  or by calling 1-877-345-0691.
If you have any questions about this no-cost testing program, contact Peter Wulfhorst at 570-296-3400 (phone) or [email protected] (email).
Penn State is an equal opportunity, affirmative action employer, and is committed to providing employment opportunities to all qualified applicants without regard to race, color, religion, age, sex, sexual orientation, gender identity, national origin, disability or protected veteran status.
---
State 4-H Fashion & Textile Revue
Twenty-three 4-H members from across Pennsylvania recently took part in the annual 4-H State Fashion and Textile Revue near State College, entitled "Be Different Together."
The Revue is the closing event for 4-H members ages 13-18 who completed a clothing or textile project, recognizing excellence in sewing and fiber arts.
The Pennsylvania 4-H'ers attending the one-day event participated in a modeling workshop, embroidery project, and a fashion show for family and friends. Participants' projects were judged as either a garment (fashion revue) or a non-wearable fiber arts project (textile revue).  The fashion participants were judged on construction, appearance, fit, design, and fashion.
The four Lackawanna County 4-H members who participated in the State 4-H Fashion Revue were: Faith Hosie (Jessup), Julia Mazur (Olyphant), Maria Parola (Moscow), and Ella Wilson (Clarks Summit).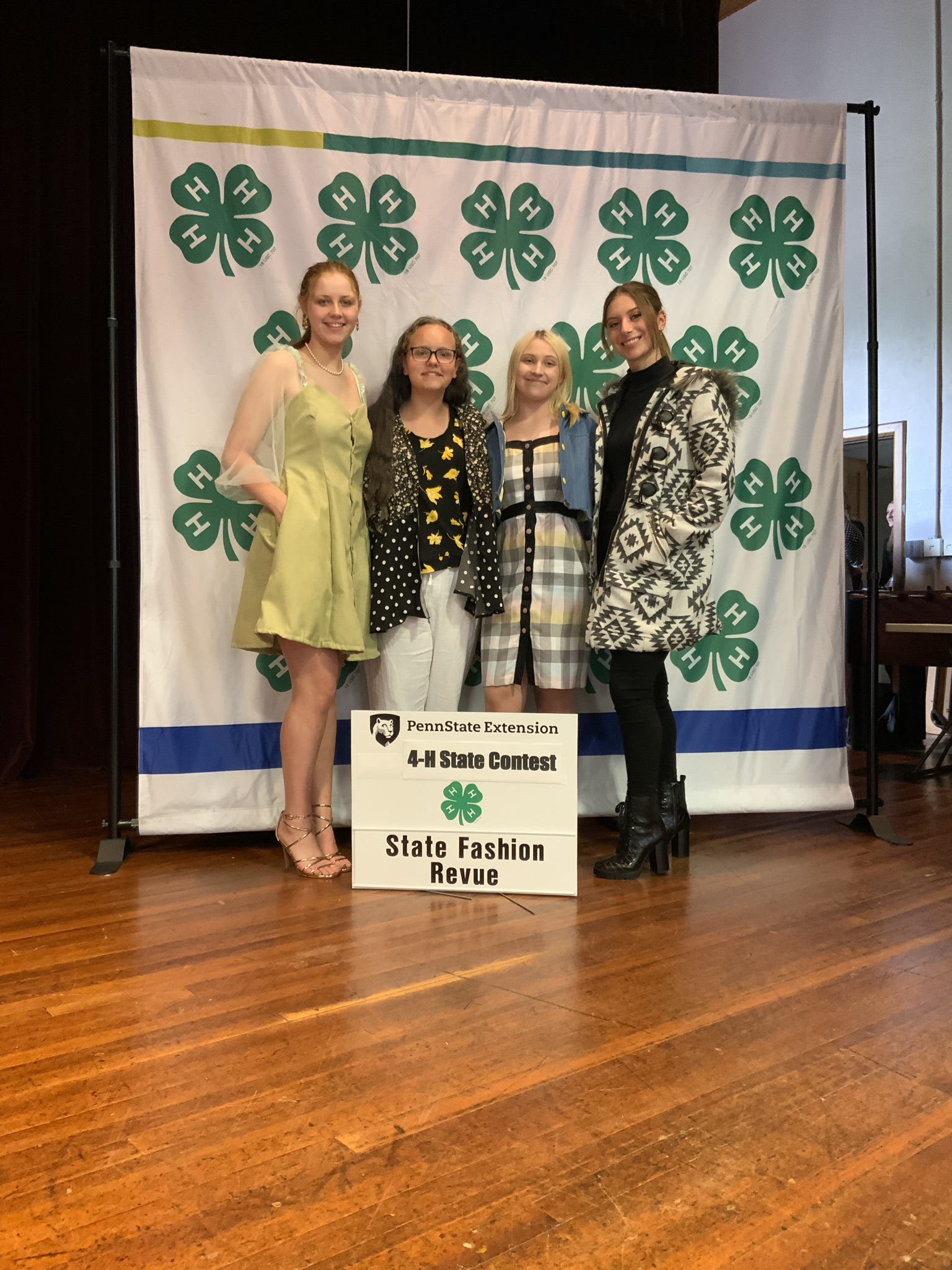 Fashion Revenue participants included, l-r, Faith Hosie, Ella Wilson, Julia Mazur, and Maria Parola.  
---
---
Penn State Coronavirus / COVID-19 Information
---
Penn State Extension's Better Kid Care site
---
---
Simple food science experiments to do with kids
---
At home educational activities for kids
---
Penn State College of Agricultural Sciences Coronavirus Information Page
---
Lackawanna County Cooperative Extension Web Site
---
RIVERSIDE PROSPER SPRING VENDOR CRAFT FAIR CANCELLED
---
2020 Leadership Conference
Nearly 700 Pennsylvania 4-H youth gathered to network and enhance their leadership skills during the 2020 Pennsylvania 4-H State Leadership Conference from January 31 to February 2 at the Penn State Hotel and Conference Center in State College.
Five Lackawanna County 4-H members were in attendance:  Faith Hosie, Jessup; Meghan Graham, Clarks Summit; Julia Mazur, Olyphant; Ella Wilson, Clarks Summit; and Ava Davis, South Abington.
County 4-H members participated in workshops designed and presented by 4-H educators, Penn State faculty, and special invited speakers. The workshops included topics that encouraged youth to build their skills in public speaking, teambuilding, conflict resolution, and communicating through social media.
For additional information on Lackawanna County 4-H programs, contact Sandi Graham, 4-H Educator, 570-963-6842, Penn State Extension, 135 Jefferson Ave, Suite 101, Scranton, or e-mail [email protected].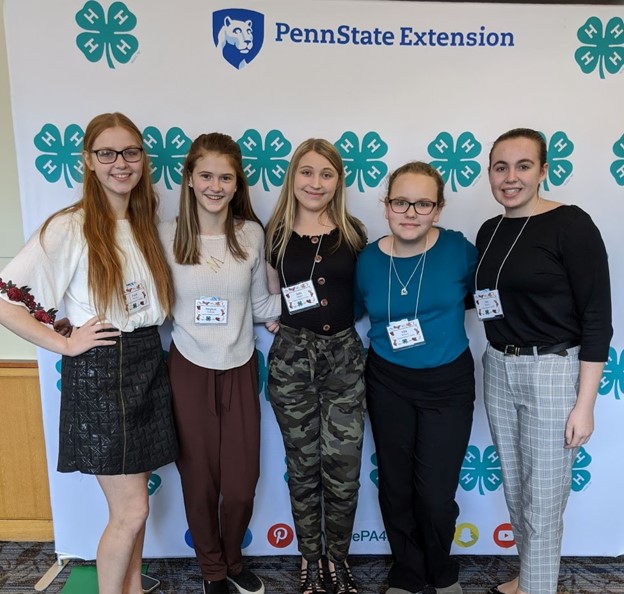 4-H State Leadership Conference attendees from Lackawanna County were: L-r, Faith Hosie, Jessup; Meghan Graham, Clarks Summit; Julia Mazur, Olyphant; Ella Wilson, Clarks Summit; and Ava Davis, South Abington.
---
Latest News

2020 Farm Show 4-H Results

 PSE and Pennsylvania Office of Rural Health resources help consumers navigate Health Insurance Marketplace
PSU Extension Carbondale Program
Master Gardener Roberta Cammer explains beneficial bugs to Carbondale first graders.

Throop 4-H Thanksgiving Day Community Service Project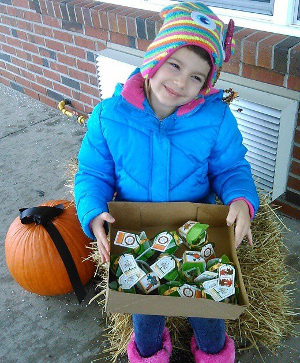 The Throop 4-H Club met in November to work on two community service projects – a food drive and making Thanksgiving Day tray favors for the Green Ridge Nursing Home. The members made over 90 tray favors which were little baskets with a turkey in them.
Cloverbud member Ellie Usher dropped the Thanksgiving Day tray favors off on Thanksgiving to the residents of the nursing home. They were very thankful to receive them.
There are monthly meetings (except January) of the Throop 4-H Club from October to May. Every month the members do a community service project, work on 4-H projects, play games and have snacks.
4-H, the youth development program of Penn State University, is open to boys and girls 8 – 19 years old and Cloverbuds are open to girls and boys 5 – 7 years old. For more information about 4-H in Lackawanna County, contact 4-H Educator Donna Grey at 570-963-6842 or by email at [email protected].
Throop 4-H club member Ellie Usher dropped off on Thanksgiving Day over 90 tray favors that 4-H members made for the Green Ridge Nursing Home residents.
Lackawanna County 4-H Teens Attend 4-H State Leadership Conference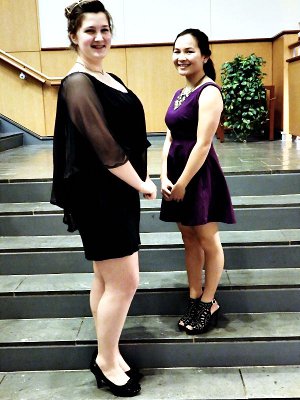 Two Lackawanna County 4-H teens attended the recently held 4-H State Leadership Conference held at Penn State University.  Hannah Conahan and Marikay Van Fleet, both members of the Glenburn 4-H Sewing Club, were among the 472 4-H teens who attended the educational conference.
The weekend event allowed 4-H teens to build and perfect their leadership skills.  The skills that the teens developed relate to personal assets that research says make teens competent, capable, and caring adults.  The weekend included communication techniques, team building, decision making, and goal setting.  The highlights of the weekend included discussions by keynote speakers who are known throughout the country as top leadership educators in their respective fields.
4-H is the youth development education program administered through Penn State University for youth ages 5 to 18.  4-H enables kids to have fun, meet new people, learn new life skills, build self-confidence, learn responsibility, and set and achieve goals.
For more information on the 4-H program in Lackawanna County, contact Donna Grey, Penn State Extension, at 570-963-6842.
The Lackawanna County 4-H members who attended the State 4-H Leadership Conference were Marikay Van Fleet, left, and Hannah Conahan.
For more information visit: Lackawanna County Cooperative Extension Web Site
---
Administrative Contacts
Dave Messersmith
Phone: 570-963-6842
Fax: 570-963-6853
Email: [email protected]
Stephen Alessi
Phone: 570-963-6842
Fax: 570-963-6853
Email: [email protected]
Location
135 Jefferson Avenue, Suite 101, Scranton, PA  18503
6,011 total views, 1 views today