---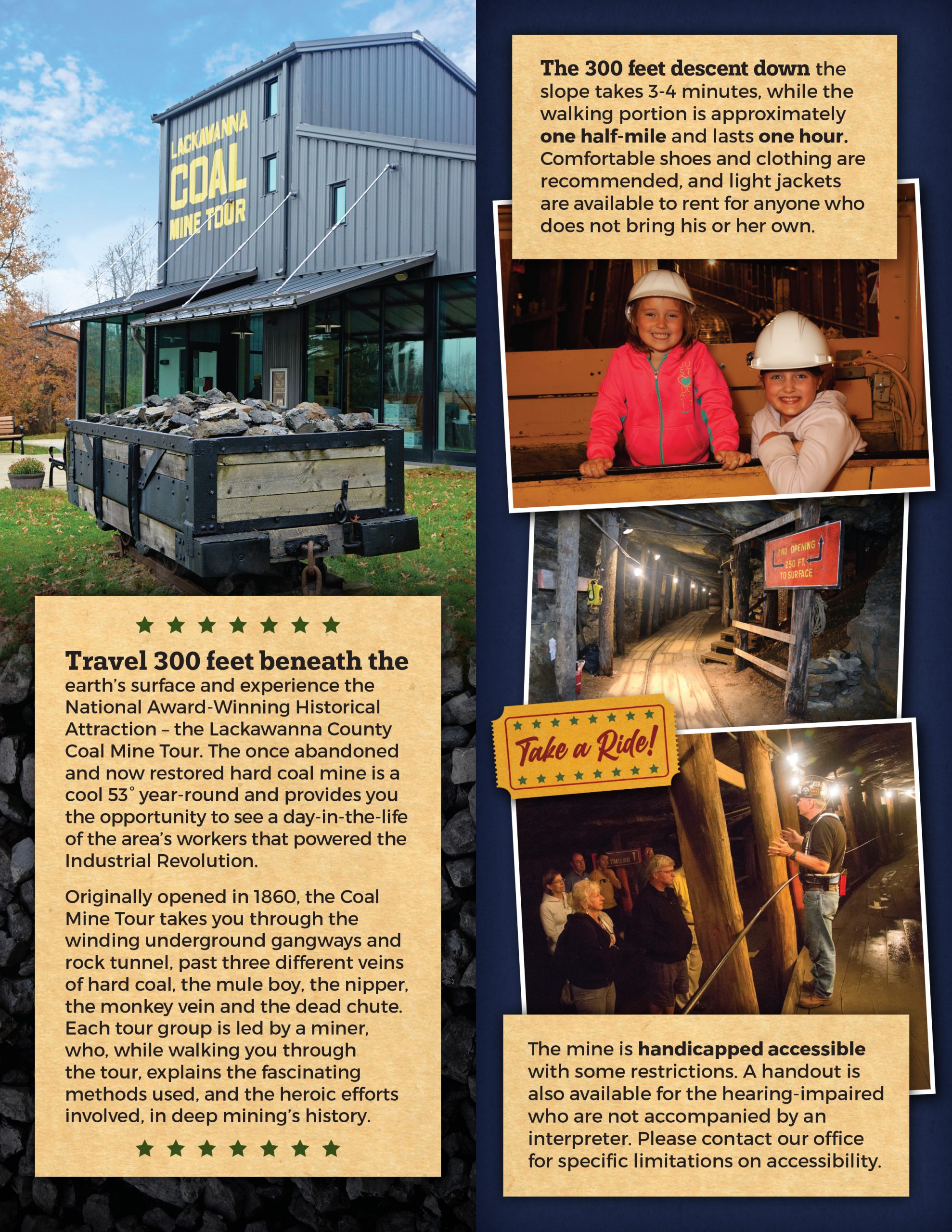 ---
Coal Mine Tour Opening on April 1st
A slice of local history is back again for the season.
The Lackawanna Coal Mine at McDade Park is back open for business, beginning April 1st.
The award-winning tourist attraction will be open every Friday, Saturday, Sunday, and Monday.
The mine's hours will be 10 AM – 4 PM. The last tour begins at 2:45 PM.
For information and / or prices, contact the Park's office at 570-963-6764.
---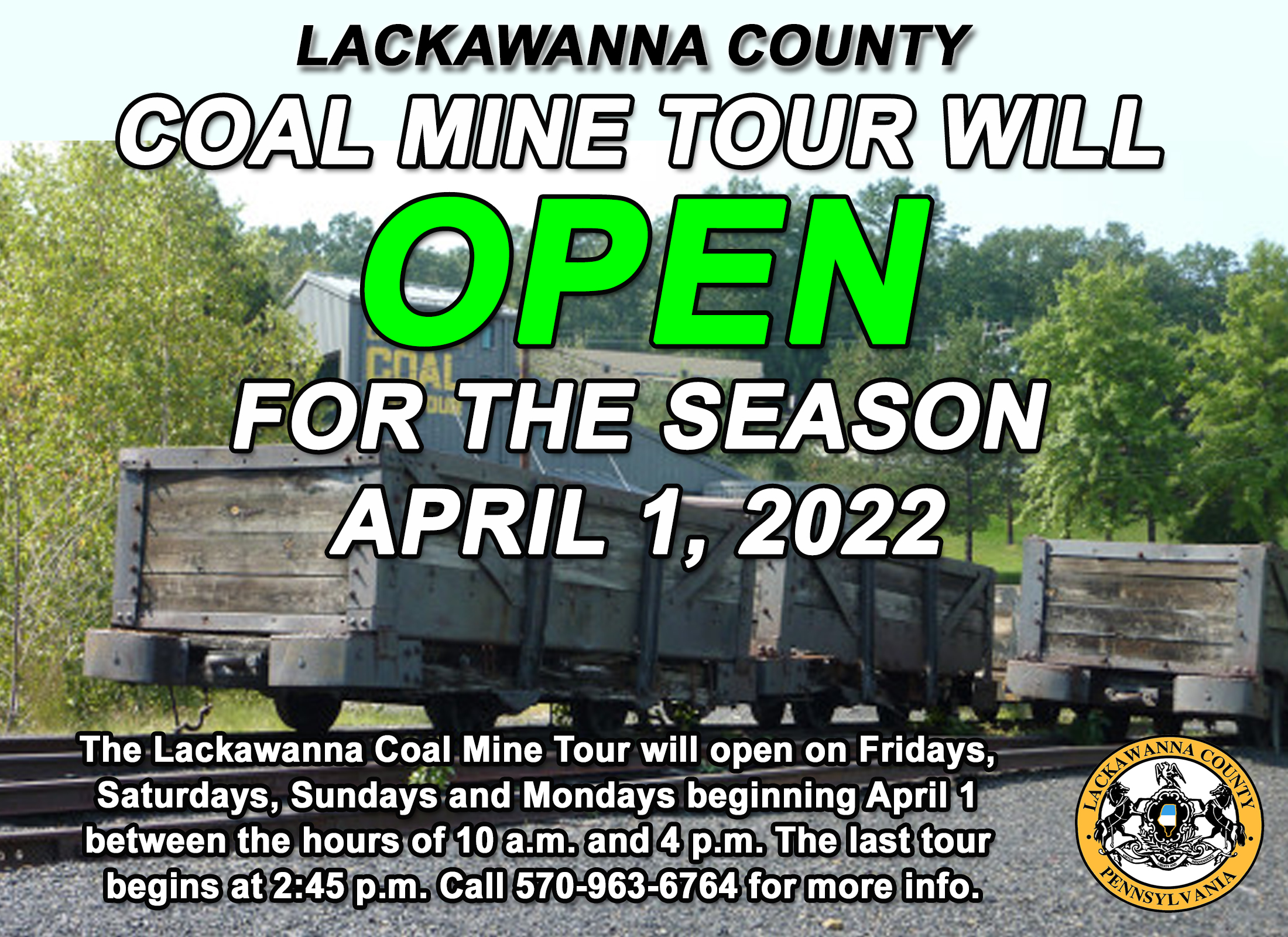 ---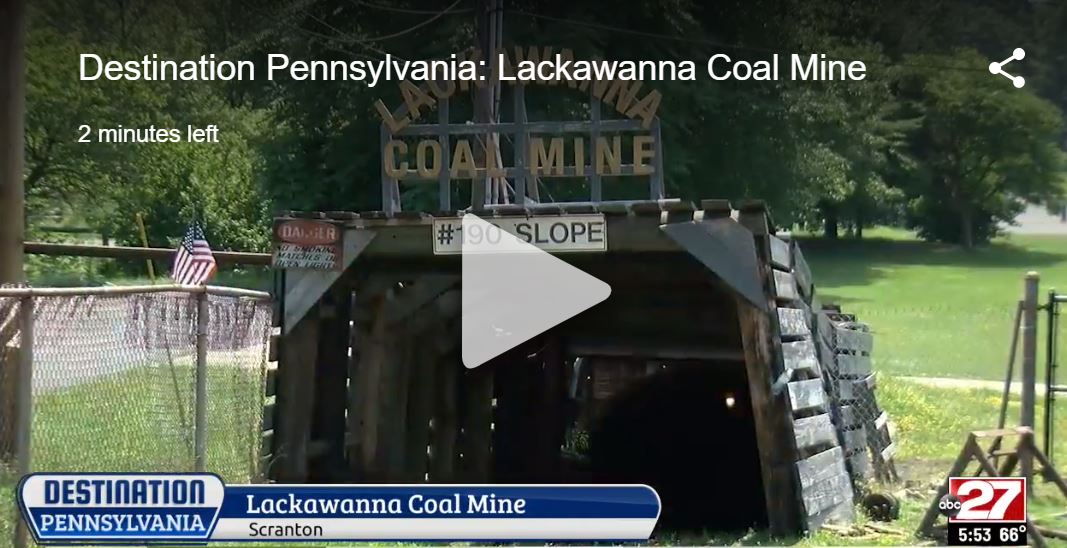 Destination Pennsylvania: Lackawanna Coal Mine
---
---

Directions |

Gift Shop |

Group Tours |

Tour Photos
Descend slowly into the earth in a mine car as you enter the old Slope #190.  Watch the sky slowly disappear. Soon you've reached "the foot".  Then explore 300 feet beneath the earth through an anthracite coal mine originally opened in 1860.  Accompany a miner in the winding underground gangways and rock tunnel past three different veins of hard coal, past the mule boy and the nipper, past the monkey vein and the dead chute. Listen as he explains the fascinating methods used, and the heroic efforts involved, in deep mining's history.
The Lackawanna Coal Mine Tour is open from April 1 through November 30 and is closed on Easter Sunday and Thanksgiving Day.  The box office opens at 10:00 AM. While waiting for your tour you can watch our introductory video about mining in our theater that is located in the interpretive center where the tickets for the tour are sold.
Phone numbers: 1-800-238-7245 and 1-570-963-6463 | Email: [email protected]
Just ask at the box office for the next available tour. The last tour leaves between 2:30 and 3:00 and you must arrive no later than 2:00 to be scheduled for the final tour of the day. 

 Coal Mine Brochure
---
 CURRENT PRICES:

ADULT
(13-64)
$10.00
SENIOR
(65+)
$9.50
MILITARY
$9.00
CHILDREN
(3-12)
$7.50
UNDER 3
FREE

Group Rates are available for schools, motor coaches and civic groups of 20 or more (based on advance reservations).

"A wonderful, informative experience."
Sister Mary Helen
Philadelphia, PA

"Fantastic tour, best in the U.S."
Jim & Vera Hays
Pittsburgh, PA

"Exciting, good, great"
Sayaka Shirai
Osaka Japan
---
Quick Facts
The temperature in the mine is 53° year round.  Comfortable shoes and clothing are recommended.  A light jacket can be borrowed for anyone who has not brought their own.
The descent down the slope takes 3-4 minutes. The walking portion of the tour is approximately a 1/2 mile and lasts one hour.
The mine is handicapped accessible with some restrictions.  A handout has been prepared for the hearing impaired who are not accompanied by an interpreter. Please call or e-mail for specific limitations on accessibility.
265,852 total views, 2 views today